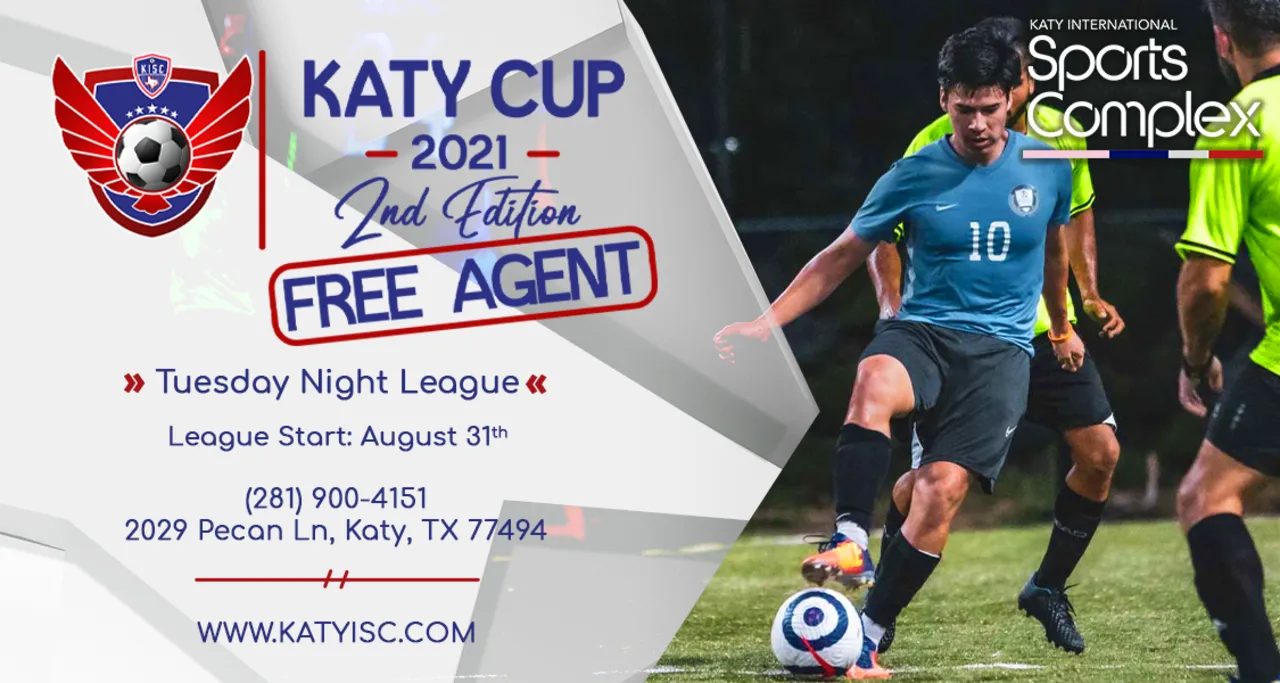 Katy Cup 2nd Edition Free Agent
INFO:
OUR ENTIRE COMPLEX IS A KID FRIENDLY ZONE
Tuesday Night League Free Agent
7 v 7
Game times will be at 8:00pm, 9:00pm and 10:00pm.
$90 Registration Fee per player. Referee fees and jerseys included in registration.
Games will start at the posted time. If the team is not on the field at that time the clock will still start.
Team must have 5 players minimum to start
If the team is still not on the field 7 minutes after the start time they will be charged a goal every 7 minutes they are not on the field. 
6 weeks regular season with 2 weeks of playoffs 
6 games guaranteed plus the opportunity to make the playoffs and play up to 2 more
Top 4 teams qualify for playoffs 
Firm ground bots (cleats)
Shin guards are REQUIRED
IF you do not have shin guards on you can not be on the field
Basic Rules:
On forfeit 3 points and 3 goals will be awarded for standings 
NO SLIDE TACKLING
Unlimited substitutions
Out of bounds throw ins only and corners will be kick ins
Substitutions can only be called for the team in possession of the ball
25 minute halves
1 yellow means player has to step out for 5 minutes NO SUB
If other team scores before the 5 minutes is up, then the player can come back into the game
2 yellows in the same game is a red and player is out for the rest of the game NO SUB 
3 yellows in the same season that player will be suspended 1 game 
Any red card player is out the rest of the game and 1 game suspension
We have a strict zero tolerance for fighting or violence of any kind at our facility. Violations will result in getting ejected from the league and banned from the facility 
New Member
Create an account to access
Do you have any questions about this League?